Crimp Tool Calibration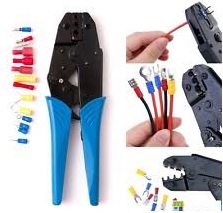 Hand crimp tools can be calibrated in two ways;
Tool Jaw Size Evaluation
A Go-NO-GO test using pin gauges to evaluate the jaw size which will be certified against the manufacturer's specification.
Pull Test (up to 1000 N, for cables sizes to 10 mm2 (8 AWG))
As many crimp tools are not manufactured to a specification, we will calibrate the crimps themselves. This method "The Pull Test" ensures that the crimped connections comply with the current British and European Standard (BS EN 60352-2) whether the tools are manufactured to a specification or not.